Tree and Shrub Treatments
The complete tree and shrub program consists of four applications per year. The first application is a spring deep-root feeding. The second and third applications are preventative insect control applications. The fourth application is a fall deep-root feeding. This program will promote healthy growth and protect the most valuable part of your landscape. Call us to day to schedule a free evaluation.
---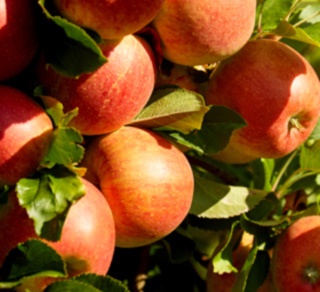 Fruit Trees
We spray fruit trees, and programs for fruit trees are available and vary upon the types of trees and customer preference. The initial spring dormant oil spray needs to be completed during the early bud stage (prior to blossom). Please contact us for further details. We are happy to design a custom program to fit your trees specific needs.

Insecticide
---
Dormant Oil
This early spring application coats your trees and shrubs, preventing a variety of insect eggs from being able to hatch. This type of spray must be done prior to early blossom stages and is effective for aphids, bores, and various other type of insects. It is also highly recommended for most fruit trees.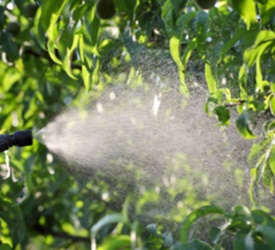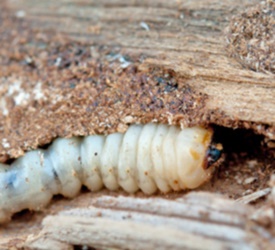 Insecticide & Miticide Spray
If left untreated, many aphids, beetles, spider mites and other insects can attack and damage a tree very quickly. These insects will probably not kill a tree, but they will cause severe stress and can reduce the tree's ability to fight other stressful conditions such as drought and extreme heat.
Deep Root Fertilizer
A deep root injection is a tree fertilizer that is applied under the surface and near the root system. While a tree can be fertilized with a surface application, a deep root injection of fertilizer puts iron, phosphorus and potassium into the root zone while providing the additional benefit of root aeration. Holes are generally placed around the tree roots with spacing and frequency based on tree size. Holes can be placed on a tree's drip line (around the edge of the canopy), or near the trunk. The benefit of this root fertilization is a healthier and stronger landscape. Adding fertilizer to your trees will also give them the protection they need against potential disease and insects.
---
Other Tree Services
There are many different types of insect problems and diseases that can afflict nearly every type of tree or shrub. If you are uncertain about what is causing your tree to drop its leaves/needles, or if it simply appears unhealthy, call us for your FREE consultation.

Get a Quote